About Our clinic in Omaha NE

If you are searching for alternative medical care in the Omaha NE area, we welcome you to Omaha Wellness Center. Our Omaha chiropractor, Dr. Goss, and the entire health team, want to show you a better way of healthy living. Chiropractic care uses the strengths of the body to heal itself. This occurs when your body receives essential nutrients, is positioned correctly and is allowed to function freely. We use a three-tiered mantra when applying our chiropractic care to your health: Eat Well, Move Well, and Think Well. When these three are in balance, your body feels better. You have more energy and you are better able to convert food to fuel so you can move more. This allows you to focus on the positives and think well.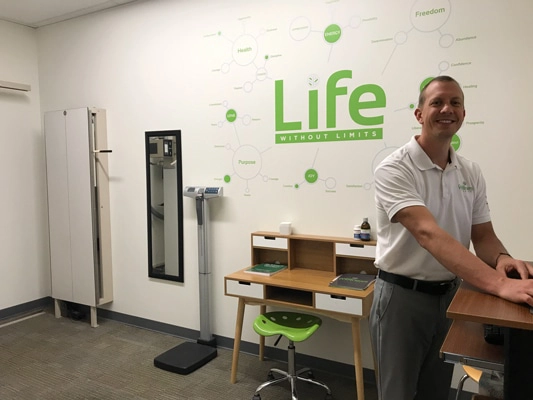 ---
A New Omaha NE Health Care Model
At Omaha Wellness Care we believe that sickness can be changed. Your genes, bad germs and accidents do not have to affect your wellness. Instead, we return the power to you by showing you how lifestyle choices affect your wellbeing. Dr. Goss and our Omaha health team teach you that your health is an expression of your lifestyle choices and we focus on eating well, moving well and thinking well as the way to be your best. Dr. Goss is a Certified Chiropractic Wellness Practitioner which means his education extends beyond traditional chiropractic care. He believes that your wellness is in your hands and cannot wait to show you how to achieve your healthy goals.
Whether you are seeking alternative health care to lose weight, reduce blood pressure, alleviate stress, and lessen back pain or other discomforts or to recover from an injury, we strengthen your body so it heals naturally. Our services are non-invasive and medication-free, which means that you do not have any side effects other than the health improvements you desire. We support you and motivate you to reach your wellness goals and answer your questions as you progress. Chiropractic care uses gentle adjustments to position your spine and joints into optimal alignment. This reduces pressure on nerves and restores your mobility.
---
Contact our Omaha Wellness Center Today
Every journey begins with the first step so we encourage you to make your first step toward wellness by reaching out to us. You can visit our Omaha chiropractic center for a greater understanding of our process or browse our web-site for answers to most of your questions. You will find health resources to further your knowledge and help you achieve the wellness goals you have set. Dr. Goss listens to you at our patient-centered clinic. He wants to understand your symptoms, your lifestyle and your targets so he can develop a personalized chiropractic care plan for your needs. Our hours and location are accessible, with evening hours when you need a visit after work. Our team is available to answer questions and greet you with a smile every time you visit Omaha Wellness Center. Please schedule your appointment today by contacting us.
OFFICE HOURS
---
Monday
9:00am - 1:00pm
3:00pm - 6:00pm
---
Tuesday
9:00am - 1:00pm
3:00pm - 6:00pm
---
Wednesday
9:00am - 1:00pm
3:00pm - 6:00pm
---
Thursday
9:00am - 1:00pm
3:00pm - 6:00pm
---
Friday
Closed
---
Saturday
Closed